About St. Gerard Majella School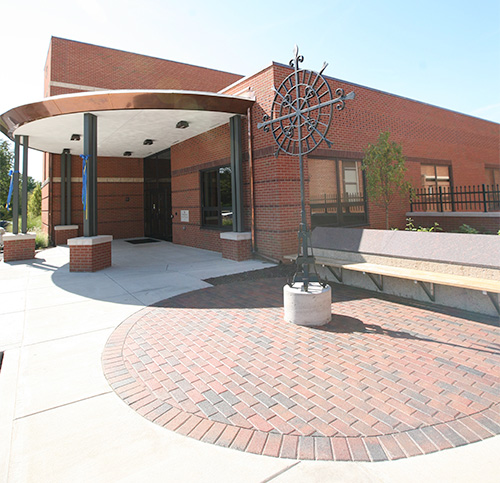 Archbishop Joseph E. Ritter founded St. Gerard Majella Parish on the corner of Dougherty Ferry and Ballas Roads in 1955. Rev. James Kelly, C.S.S.R., chosen to be the first pastor of St. Gerard Majella Parish, took up residence at St. Joseph's College, Geyer and Big Bend Roads (now Meramec Community College), and celebrated the first Mass on Sunday, June 19, 1955 in St. Joseph's Seminary Chapel. The parish roster contained the names of 250 families.
Groundbreaking for a new parish school, in which the upper floor would serve as a church, took place on April 8, 1956. The first teachers belonged to the religious order, Servants of the Immaculate Heart of Mary. Original enrollment in the school was 202 pupils in primary grades only. Grades 5 through 8 were added in 1964.
The parish celebrated its 25th anniversary in 1980. Groundbreaking for a new church began in 1981. With the dedication of the new church in May of 1983, the school was able to use the upper floor of the original building for parish meeting rooms and classrooms. When the sisters withdrew from their mission at SGM in 1986, it marked the first year in the history of the parish to have a completely lay staff at the school.
As parish needs and school enrollment continued to grow, a building expansion effort was pursued. A capital campaign was begun to eliminate the parish debt in order to add facilities that would include parish meeting rooms, additional classrooms, and a gymnasium. Groundbreaking for expansion took place in August 1997, and the facility was opened in 2000. Dedication of the building addition took place February 20, 2000.
The parish did not stay still long. The needs of the school and parish continued to grow so another capital campaign began. In September 2011 the present school building which houses offices, thirteen classrooms, a common area known as Liguori Hall and restoration of other areas of the school was opened. This enabled the school to open an all day Kindergarten.
The entire school was updated with Smartboards and Internet capabilities. The school, through the efforts of the APT (Alliance of Parents and Teachers), won the U.S. Cellular Challenge which brought the school $50,000 to upgrade the computer and science needs of the school. This allowed the school to purchase 15 microscopes, 1 stereomicroscope, 30 new laptops for the computer lab, 30 iPads, and 60 chromebooks. This technology is carted and located on every floor making it available for easy access for student use.
In 2012, SGM was named a National Blue Ribbon School of Excellence and continues to strive to maintain that distinction. Today the school currently employs 34 staff members who provide a full-time Catholic education to over 375 children of the parish in kindergarten through grade 8.